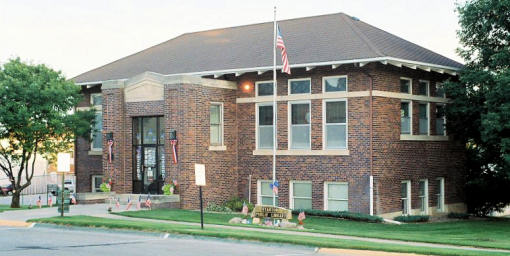 1009 Jackpine St
PO Box 497
Stanton, NE 68779
Phone: 402-439-2230
Fax: 402-439-2248
E-Mail: spl68779@stanton.net
Facebook: Stanton Public Library Facebook
Stanton Public Library Online Archives
The Stanton Public Library and Stanton Register are excited to announce that the public is now able to view past editions of the Stanton Register online in a searchable format. You may do so by clicking the following link: stanton.advantage-preservation.com
Hours
| | |
| --- | --- |
| Monday | 1:00 p.m. - 6:00 p.m. |
| Tuesday | 12:00 p.m. - 6:00 p.m. |
| Wednesday | 12:00 p.m. - 6:00 p.m. |
| Thursday | 12:00 p.m. - 6:00 p.m. |
| Friday | 10:00 a.m. - 4:00 p.m. |
| Saturday | 9:00 a.m. - 12:00 a.m. |
| Sunday | Closed |
Our Mission
The mission of the Stanton Public Library is to provide up to date material, services, programs, and staff knowledge to fulfill the needs of our diverse community, which encourage independent learning, lifelong reading enjoyment and library usage.
Policies: Book of Library Policies
Other Local Libraries
North Bend
Ord
Wymore
Morton-James in Nebraska City
Fairmont
Neligh
Battle Creek
Hartington
Funding for the Stanton Public Library is provided by municipal tax dollars from the City of Stanton and limited county and state funding. Community Support for the library is essential to our growth. For more information on donating to the Stanton Public Library please visit the Stanton Community Foundation.